Reiki for Animals
Did you know that animals respond remarkably well to Reiki healing? We have experience with dogs, cats and horses, and find that the gentle energy of Reiki may help to calm and settle even the most fractious animal.
Drop us a line to discuss your needs.
Prices start from £55 including travel.
We can visit you in your own home to minimise the stress on the pet. Cats can either sit on the owner's knee or settle in a cat box. Dogs are usually happy to settle on a favourite bed or the floor.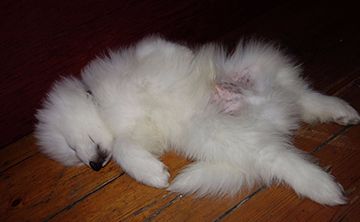 This is Loki the Samoyed after one of his Reiki sessions - a perk of being a therapist's fluff ball!